We understand the critical importance of minimizing downtime.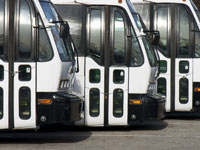 Decades of hands on experience and long standing partnerships with our customers has taught us this: Keeping a fleet at maximum performance results in actual cost savings.
From New York to San Antonio to Seattle, Apache Future technicians are in the field, working closely with some of the most respected names in the transportation industry. When your fleet is in need, we can help.
We offer:
Project Management
Major Rehabs
Campaigns
Acceptance
Warranty Support
New or After-Market Retrofits
PDI
PMI
HVAC
Electrical
Telematics
Programming
QA / QC inspections
Diagnostics and Troubleshooting
Amerex Certified for Parts Distribution / Installation
Welding
Maintenance / Safety Repairs
General Repairs
For more information on how Apache Future's comprehensive field services can assist your business, please send us a request on our Contact page, or call:
(800) 874-1089 or (480) 751-6278